The beginning of this period can be marked by the decision of making something different from the social standards. Studying a master or getting a job are supposed things to do after studying a university degree but, regarding the world-wide situation and the influences on us (socio-cultural, political, economic, as a like), I decided to come to Thessaloniki (Greece) for a volunteering period with EVS. The hosting and coordinating NGO is called Arsis, and it touch a great range of social issues; from safe-zones and working camps as a first step to provide the basic needs, to Shelters and educational programs that attempt to integrate on the Greek and European system.
Bearing that on mind, I have chosen to volunteer in a Shelter because I want to view on first-hand the situation of those unaccompanied who had just finished a rough process of emigration. Their security and basic needs insurance was not provided in their countries so they had to leave, many weight on their backs and a great challenge ahead. Languages, culture shock, loneliness and suchlike has to be overcome in order to integrate themselves on these countries. Here we have the key, but not just the volunteer or the workers of this social organizations, but the whole community whatsoever. To give important tools like human rights awareness, environmental consideration, psycho-sexual and emotional well-being, etc., are essential things to ensure the integration as part as of formal education like languages.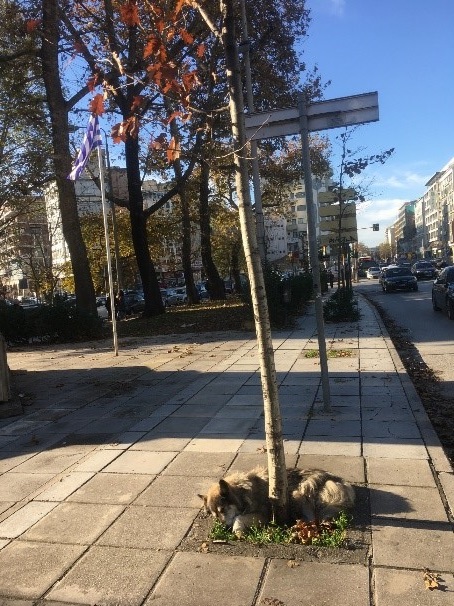 Arriving to the point of this report, here is where I am situated, I started to teach Spanish and English languages in the Shelter of Pylea. However, as it can be anticipated, being in the shelter is not just in the classroom but "living" with them and with the working stuff, so a great range of activities can be done with them: personal talks, guitar jams, sports activities, different workshops and the like. Concluding, these last month has been an introduction to the new country and to the shelter, which has been successful at all but still too many things to improve. I would like to add some informal education topics as the previously mentioned the next months and try to make some sort of research of these population which are in risk of exclusion and need many things to be improved.
Martín López Sosa